Product details reference 490070N
Description:  
Siphonic channel for shower made entirely of stainless steel AISI304. Incorporates a 360° super-flat trap made of ABS plastic with a 33 x 33 cm thermo-sealed sheet suitable for waterproofing and a hair-catcher strainer to facilitate cleaning. Includes 2 x 1.5 m SKY waterproofing membrane. Flow capacity: 0.9 l/s.
Black finish 
The treatment that provides the black color is known as Physical Vapor Deposition (PVD). It is a coating method that consists of depositing thin films of different evaporated materials on the stainless steel surface of the channel. The coatings are ceramic, withstand high temperatures and good resistance to corrosion, impact and abrasion. They are also impermeable to ultraviolet degradation, do not fade and are very harsh in acidic, alkaline and salt bath environments, nor are they damaged by chemical and cleaning products. Dangerous by-products are not used so the PVD system is ecological and environmentally friendly.
1. grating
2. thermo-sealed sheet
3. channel
4. trap
Grating ref. Reversible
(two finishes in only one grating)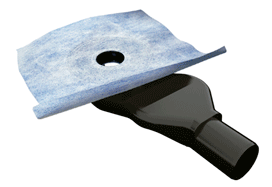 Top piece of the trap with pre-marked fold to bend and adapt to wall-standing facilities
Waterproofing membrane 2 x 1,5 m
Ref. TELA

90º super-flat non-syphonic elbow Ref. SCD50